Conceive, Believe, Achieve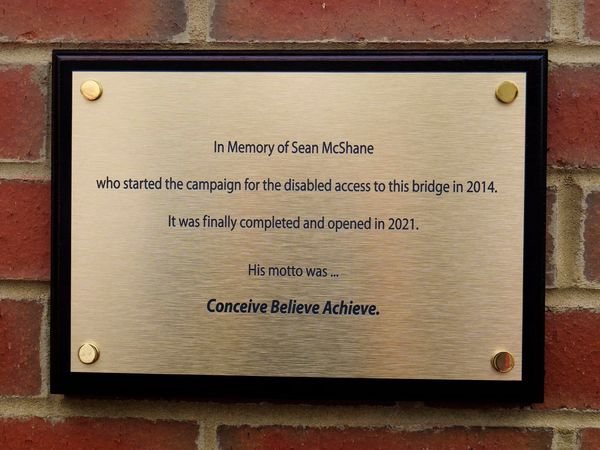 Sean's visionary Widewater Bridge officially opened
Sunday August 15th 2021 dawned grey and blustery. As the morning progressed, the grey got greyer, the bluster got more blustery and finally an all pervading blanket of mizzle hurtled in from the west south west.

Midday approached and the skies began to lighten; the mizzle that had misled locals into their rainwear vanished as if it had never been. And then the sun shone down on the 75 or so residents and councillors assembled at the new Widewater Footbridge to celebrate its official opening and to remember the hard work and campaigning of Sean McShane, his wife Lynda and Geoff Patmore to fulfil Sean's dream of access for all to the lagoon and the beach beyond it.

The campaigning began as long ago as 2014. Sean was an engineer and, after calculations, was passionate that access for all was possible.

The campaign for access for all at Widewater Local Nature Reserve was rejected time after time by all agencies
Sean sadly passed away in 2015 but his wife Lynda and Geoff Patmore of West Beach Residents Association carried on his work with support from community conservation group World of Widewater.

There was a major breakthrough in 2016; WSCC agreed to access for all and held public consultations and developed plans to include a new bridge.

In 2020, ADC and WSCC combined and finally completed new access for all and the new bridge was delivered in 2021. Without Sean's tenacity this access for all to Widewater Lagoon Nature Reserve would not have happened.
At midday with the glorious Sussex sun smiling down, Lynda unveiled a plaque commemorating Sean and his work at the northern end of the bridge and the big local turnout toasted his work and memory.

Conceive, Believe Achieve was Sean's philosophy. Well he certainly did that.

Many of the residents then went on to brave the blustery winds and continue celebrations with a community picnic on the beach.

Sean would have loved that – the grey, the mizzle, the sun, the wind and the spirit of community coming together.