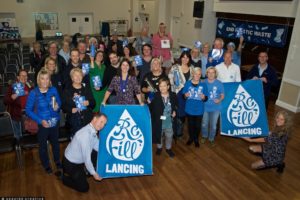 Refill Lancing went live yesterday with its launch at Lancing Parish Hall with over 80 people attending for films, talks, presentations and information stalls. The event was hosted by the Chairman of Lancing Parish Council, Cllr Lydia Pope supported by Francesca Iliffe of A&W Councils, Joel Hufford of Southern Water, Mala Nathan of Refill South-East and Claire Potter of Surfers Against Sewage.
It was organised by Wendy Peters of the community group, Keep Lancing Lovely, together with Lancing Parish Council, supported by Adur District Council and West Sussex County Council. Among those attending were Cllr George Barton, Chairman of Adur District Council as well as West Sussex County Cllr Ann Bridges and several District and Parish Councillors.
Since Lancing embarked upon the Refill journey early this year, Wendy has signed up more than 25 local businesses and community organisations to the Refill Scheme's App, which sees them offer water stations to allow the public to top-up reusable containers on-the-go rather than buying single-use bottles.
Southern Water, Surfers Against Sewage, West Sussex County Council's Waste Team and Ouse and Adur Rivers Trust as well as local community groups World of Widewater, Sustainable Sussex, and Worthing Climate Action Network were among those in attendance at this event. These organisations had stalls and their attendance created a great atmosphere so greatly contributing to the success of the launch of Refill Lancing. Another great effort by a great community champion, Wendy Peters. Congratulations and well done, Wendy!