by Jo Procter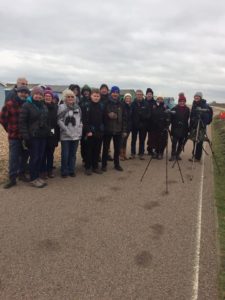 Wow! What an amazing turn out today for the bird walk! About 60 people turned up.
Thanks to all who came and I hope you enjoyed the event. We couldn't have done it without SDOS who are the expert birders so a huge thanks to Tony Benton and Tim Holter who led the two groups on the lagoon and on the sea side. Tony has made a list of sightings, please see below: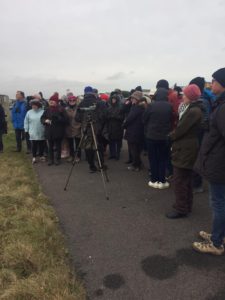 About 60 people turned up for the Widewater Bird Watch on a chilly, blustery, Saturday morning. With so many people, it was necessary to split into two groups: one group started with a sea watch and the other group focused on the lagoon, swapping around after about 45 minutes.
There was plenty of activity on the sea, and most people saw:
Gannets
Great Crested Grebes
Razorbills
Guillemots
Herring Gulls
Black headed Gulls
Red Throated Diver
And along the beach at least 15 Turnstones.
Birding from Shoreham Beach has been outstanding in recent weeks and today was no exception. Two participants had travelled down from Croydon to join the walk and were impressed with what they were able to see and enjoy.
The lagoon was quiet but after two circuits we had seen:
Little Egret x1
Mute Swans x3 (with fascinating insights provided by Jo from WoW)
Herring Gull - many
Black headed Gull - many
Coot x2
Little Grebe x8
Teal x4
Magpie x1
Redshank (2 or 3]
It was very positive that three local groups were represented at this event, namely World of Widewater, Friends of Shoreham Beach, and Shoreham and District Ornithological Society. The event succeeded in its objective of showcasing Shoreham's wildlife and it was brilliant that so many people braved the conditions and saw some really interesting birds.
Tony Benton